Dancing Exile
Dancing Exile is an ongoing collaborative dance project in Hamburg, Germany exploring forced migration stories past and present. What started as a sharing of choreographic research on the history of Hannah's own Jewish family escaping Nazi-occupied Hamburg during WWII has grown into several iterations of an improvisatory dance project with current labor and political migrants finding refuge in the cityscape today. Dancing Exile workshops and resulting performances have been held in historical sites dedicated to memorialization of the Holocaust now repurposed as refugee resource centers.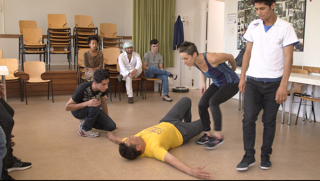 In 2015, Hannah joined a German language class of new migrants currently seeking political asylum in Hamburg and facilitated a movement workshop exploring the theme of dancing exile. Participants engaged relationships to space, space, and points of view. The workshops aimed to provide an opportunity for international groups to humanize alienating experiences, and recognize the expressive power of a collaborative creative process.

In Transit (2016)
In Transit (2016), filmed and edited by Malia Bruker, features a conversation between Hannah and Mayo Akinruli, a Nigerian émigré. The two met while walking in Hamburg in 2015, and then again by happenstance in 2016. On the first occasion, they spent several hours walking a landscape they both only partially knew. Both had only newly arrived in Hamburg; Hannah, in search of her Jewish grandmother's roots, and Mayo, in search of work. When they met again at random the following year, the chance encounter surprised them. In Transit depicts the improvisatory nature of what happened next, as they set out to share their stories of migration and connection through dance and interview.
The Art of Confusion (2016)
After the initial summer workshop with Dancing Exile project participants, Hannah returned for a week-long residency with members of the group who wished to continue working together. A generative slew of creative discoveries, philosophical conundrums, logistical challenges, and revelatory mis/translations led to a public performance at Gangeviertel (a historical site in the downtown district of Hamburg) called "The Art of Confusion".
Between I and Thou (2017)
In the summer of 2017, core members of the Dancing Exile project worked to create a short dance film on the process of working together. Drawing inspiration from philosopher Martin Buber's seminal text, I and Thou, the film Between I and Thou enters an improvisation dance workshop in Hamburg, Germany, where a group from Afghanistan, Sierra Leone, and the United States moves through questions of migration, relationship, and creative exchange. A hybrid dance and interview format follows participants as they explore a collaborative practice where change is constant and negotiation ever present. The project features Sakhi Poya, Omar Kindy Condeh, Alireza Ghorbany, Zaher Dost, and Hannah Schwadron. German artist Benjamin Mandos worked on videography and editing, and Louis Schwadron composed original music once the footage was edited.